AddThisAddThis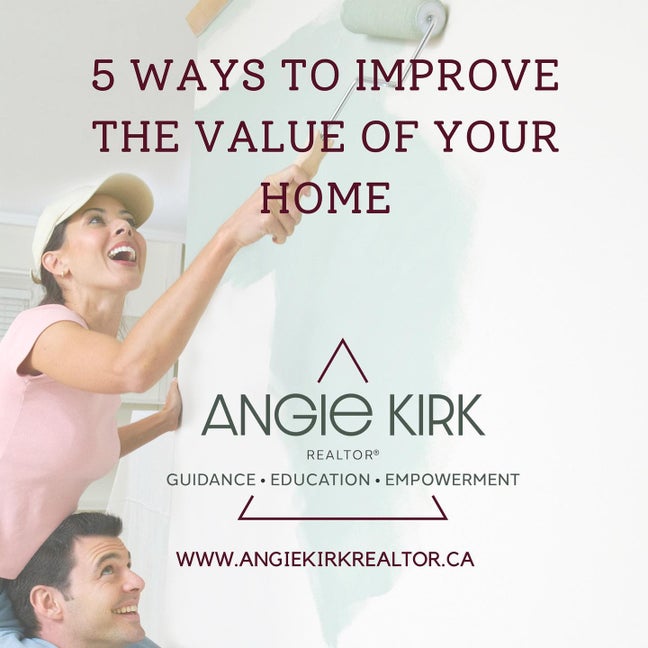 When entering into the world of real estate there are endless possibilities. 
For the most part, people want to purchase a home for themselves and enjoy the security of home ownership.
However, other options include buying a rental property or buying a fixer upper to flip.
Budget is everything these days and it's not easy to find the perfect home with limited spending power so let's talk about how to view properties with a discerning eye and how to improve them.
Here are 5 ways in which you can add instant value to any home:
#5 Flooring and Paint
Paint is the most economical way to both freshen up and modernize a home.
Unless you are skilled in this area I highly recommend hiring a professional to do the job as it will save you both time and money.
Fresh paint applied poorly will only negate all the work you just did!
Flooring can be a bit more costly depending on what you plan to do. If there is already hardwood in place you may be able to refurbish it and get it looking great again. If you are pulling up old carpets then look into a sturdy laminate or engineered hardwood, or perhaps tile if that suits the style of the home.
#4 Light Fixtures and Hardware
Light fixtures are the accouterments that accessorize a home. Again, depending on the property, you don't need to break the bank by modernizing them. Walk through any Home Depot or IKEA and you'll be blinded by the multitude of lighting options.
Hardware is the other accessory to a home. Have a look at all the door handles and make sure they are consistent throughout the home. Choose a modern finish that also ties in with your kitchen and bathroom faucets. Go through the home and replace all light switches and plug covers.
These little touches go a long way!
#3 Bathrooms
Obviously this is a huge area in which you can level up a house. Simply swapping out the toilet can go a long way in cleaning up and modernizing a bathroom.
Is the tub in good shape? Then keep it. If it's a little rough there is a type of paint you can use to clean it up and get it looking good as new. Of course if your budget allows then go for gusto and replace it with a nice tub surround.
Next up, check the tiles and the backsplash. Are they old and ugly with dirty grout? Replace them!
A splash of paint and new knobs or handles will go a long way on the cabinets provided they are in good shape. Otherwise check out your local ReUse It or Habitat for Humanity - you'd be amazed at how much good stuff you can find there.
Sinks, cabinets, toilets… you name it.
#2 Kitchen
The heart of the home ranks high on the list of value added upgrades (I bet you're surprised it's not #1).
Upgrading a kitchen will bring you great returns on your investment
. You can spend as little as $5000 or as much as $50 - $100k on this area of the home. Before you go into this make sure you are clear on what the best plan of action is here.
Be sure the kitchen reno matches what you've done with the rest of the house. If you have simply done some paint touch ups and laminate flooring then don't go out and spend $70k on a brand new kitchen. Think about what you did with the bathroom and match it to that level.
#1 Income Suite
This is THE best way to add value to your property
. This is only my opinion, but I feel that your real estate holdings should always be paying you money. Imagine having someone paying a portion of your mortgage every month - believe me, that passive income never gets old.
Before you do this though, you need to ensure that the bylaws and zoning allow for a suite.
How can you leverage these upgrades?
Well, you can fix it and flip it. This isn't something I recommend as it is a costly expenditure and (in my opinion) real estate is for holding.
In this case you want to recoup your renovation costs, plus the property transfer tax you paid upon purchasing the home, plus real estate fees, plus holding costs should it not sell right away, and now the government has implemented a new law that
any home purchased and sold within a year is subject to business tax,
therefore, any gains on the sale will be added to your annual income.
You can, however, flip it to yourself.
What?
Before you go with this strategy make sure you have had a conversation with your mortgage broker in advance, and also speak with a local REALTOR® so that you understand the current market conditions and values of comparable properties.
In this scenario you buy the home, fix it up, add in a suite, have it re-appraised and then refinance it in order to take out the equity and pay yourself back.
Now you have a property that has not only paid you back, but will continue to pay you monthly and will passively appreciate with the market.
The final option is to rent out the entire property and let it pay for itself and give you a little extra income at the end of each month. Even if it's only $100 you're still on your way to securing future wealth for yourself and getting ahead of inflation.
Questions? Please let me know! I'm happy to walk you through the process or assist you in securing a property.

Share
Share